NORTH Georgetown's (District 11) Kenisha Phillips, and Linden's Compton Caesar and Daniel Williams gave some of the best sprint performances of the day, yesterday, as Upper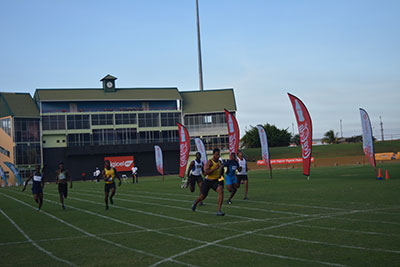 Linden's Compton Caesar taking the boys' U-20 100m winDemerara/Kwakwani (Linden – District 10) continued to lead in the athletics competition of the 56th National Schools' Cycling, Swimming and Track and Field Championships when the action continued at the National Stadium, Providence.The day also saw North Georgetown (District 11) picking up several much-needed wins as athletes such as Claudrice Mckoy, Samuel Lynch, and Maria Urquhart governed the 800m races.However,that was not enough to propel a besieged District 11 closer to defeating their longtime nemesis, District 10.As the day saw the completion of another 31 finals, for a total of 51 finals, last year's second place finisher North Georgetown continued to struggle in 9th position among the 15 districts, as West Demerara (District 3) gained enough traction to now stand in second place in the athletics competition behind the Lindeners.As at the close of yesterday's competition, District 10 had already accumulated 239.5 points, keeping a tight hold on the lead. District 3 is on 210.5 points while North West (District 1) has so far registered 208 points, to hold on to the third spot.
Linden's Daniel Williams is the first to cross the finishing line in the boys' U-18 100mAfter finishing in third position on Tuesday, Essequibo Coast/Pomeroon (District 2) was knocked down to fourth in line, now having 171.5 points.Corentyne (District 6) has 149.5 points, but could easily be overcome if East Coast Demerara (District 4) builds on the 144 points that they have. West Coast Berbice (District 5), with 139 points, could also be a challenge for Corentyne.Another Berbice team follows in the lineup as New Amsterdam (District 15) has 136 points. With less than half the points of District 10, District 11 comes in with 112.5 points.Phillips gave District 11 their only 100m win, as she took the girls' under 16 victory in a time of 12.10, pipping District 10's Deshanna Skeete to retain her title for that race.The 100m got off to a blazing start with Compton Ceasar winning in 10.60 seconds in the boys' under-20, just shy of equaling the current 10.5 seconds record. His nearest competitor was District 5's Titus Webster who clocked 11.13 seconds.The next boys win belonged to South American Youth silver medalist, Williams, who had to battle against the challenge of District 13's Umkosi Vancooten. But Williams was just a bit more than Vancooten could handle, as he crossed the finishing line in 11 seconds flat and Vancooten was behind in 11.1 seconds.In the 800m for girls' under-20,District 3's Kezra Murray tried and failed to challenge Urquhart for that win, where the winning time was 2:28.60s.McKoy, on the other hand, had a comfortable time dominating her pack, where she clocked a time of 2:28.50s in winning the girls' under-18, 800m. Lynch took the 800m for boys in a time of 2:02.20s.District 3's Joanna Archer was disqualified from the 800m for girls' under-18,for stepping over the line, inside of the track.The competition is set to continue today at the same venue, with the 200m and 1500m finals,with Phillips, Ceasar and Williams being touted to collect sprint doubles.